Covid-19 Health and Safety
The Health and Safety of our community is our main priority. ESGC has developed a Health and Safety Plan for re-opening at Level 2.
Please click the below buttons to read through these guidelines – Updated 26/8/20
Alert Level 2 – Health and Safety Guide for Parents – Updated 26/8/20
ESGC Safety Plan – Full Document – Updated 26/8/20
GET TO KNOW OUR NEW COACHES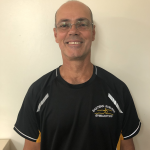 Flaminio Oliveira
Position: Rec Manager
With 38 years of experience in coaching, we are very lucky to have Flaminio join our coaching family!
Flaminio is FIG qualified in both men's and women's artistic gymnastics. Originally from Brazil, he owned his own gym for 11 years where one of his very own gymnasts went on to become an Olympic Gymnast!
Flaminio has led teams to the Brazilian Nationals and NZ Nationals. But he is just as passionate about the recreational side of gymnastics as the competitive.
One of Flaminio's goals for ESGC is to increase participation in the sport and share gymnastics with the community. He believes gymnastics is an incredible sport which helps to build confidence and self control whist having lots of fun!
Fun Fact 1: His name is Flaminio, but many kids and parents know him by his friendly nickname Flamingo 
🙂
Fun Fact 2: Flaminio loves travelling and tries to take a handstand picture at every cool place he visits!
Flaminio will be coaching our Playgym, Novice, Rainbow Gymnastics and Holiday Programs.
Josiah Geange
Position: WAG Head Coach
Josiah has been involved in gymnastics almost his entire life, having competed at an international level in MAG then progressing in to coaching. Josiah has coached a range of ages from Pre-competitive to International.
Although still young, Josiah has achieved some outstanding results in his career so far. His gymnasts have competed at international competitions including World Cups, Pacific Rim, Junior Commonwealth games and World Championships! He has also been named as New Zealand coach for many of these international tours.
Josiah has a big vision for both ESGC and gymnastics in New Zealand and is excited to lead our great coaching team and impact not only ESGC but the wider gymnastics community too.
We are incredibly fortunate to have such a talented coach with big aspirations joining our club.
Welcome to the ESGC family Josiah!
New Classes Now Available
Circus & Acro Classes
New! Circus and Acro Classes
Friday 6.30 – 7.30pm
Saturday 1.00 – 2.00pm
Circus and Acro Holiday Programme
New! Circus and Acro Holiday Programmes
Enrolments now open